iPhone 8 Battery Replacement in Weatherford, Texas
You know that iPhone 8 battery isn't what it used to be. The good new is, we can repair that! For only $59.95 you can have your iPhone 8 Battery Replacement in Weatherford, Texas while you wait! We offer fast, low-cost, professional iPhone 8 battery replacement services in our Weatherford Cell Phone Repair Shop. The iPhone 8 battery replacement is the perfect solution for when your device has stopped charging correctly or holding a charge–and our repair techs can do this service with less than a 1-hour wait. We can even schedule same-day appointments most days, so there's no need to stress about finding time to get your phone fixed. Plus, this service will typically only take less than an hour!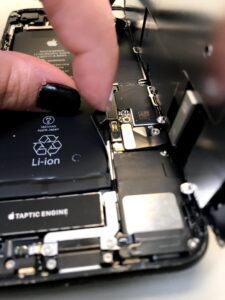 Quickly, Low Cost, and Reliably
If you're looking for a quick, low-cost, and reliable iPhone 8 battery replacement service, then "Cell Phone Repair Weatherford" is your company.
We take an honest assessment of your device and provide a quick turnaround. So you won't have to wait long before your phone is back in working order. In addition, we have excellent service at fair prices–plus, our staff is friendly and knowledgeable. So if you need an iPhone 8 screen repair or any other type of repair, set up an appointment to see us in Weatherford today!
How to get your iPhone 8 battery replaced
You need to contact us and set up an appointment time. We will make sure we have a new iPhone 8 battery on hand and work with you to set up a perfect time for you to come in. We will meet you in the front waiting area when you come in. Then we will take it to our repair room and replace the battery. Minutes later, we will return your phone with its new battery. It is that simple, quick, and efficient!
What you need to do before getting your iPhone 8 battery replaced
Before getting your iPhone 8 battery replaced, you will need to back up your device if possible. There is always a risk of data loss, even though it is a tiny risk. We never see it happen, but we still want to make you aware.
The next thing you need to do to have your iPhone 8 battery replaced is making an appointment with us. It is sometimes possible to get you in within minutes, but for efficiency, we require appointments.
How much does it cost to get an iPhone 8 battery replacement?
iPhone 8 battery replacements cost is only $59.95.
Where can you go to get your iPhone 8 battery replaced?
Cell Phone Repair Weatherford is your iPhone 8 battery replacement store. We are located right off the interstate in the Willow Park area of Weatherford, Texas, region of Parker County.